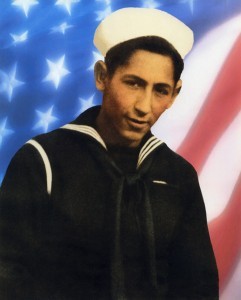 Garcia Furniture Designs Inc. reflects three generations of craftsmanship started by Grandfather Robert Garcia. After serving his country in WWII Robert came back to Los Angeles, California and enrolled in furniture building and design school where he learned how to build and upholster furniture.
The process of his learning began with designing a piece of furniture to the actual building of the wood frame as well as installing the spring work foundation to the final application and choice of the fabric to the finished piece.
Grandpa Robert worked in Los Angeles for a number of years in the furniture plants where he learned to sharpen his skills. Upon moving to San Diego in 1957, Robert and his family started, "Robert's Upholstery" located at the corner of Imperial Avenue and 47th street. He worked independently for many years building custom furniture as well as restoring antiques for many top designers in the San Diego area.
Having seven sons and three daughters, he taught them all the trade telling them they could always fall back on it no matter what career path they chose. His wife Esther worked alongside him as his seamstress. Together they created designs of custom upholstered furniture. The quality and excellence of workmanship continued as he worked for the Sheraton Hotels, Spreckel's Theatre and many churches as well as restaurants.
In 1980 his son, Leonard, took over as owner, building the business to include home theatres using various insulation materials, upholstering over them, making a quieter and warmer environment.
Leonard's sons, Leonard Jr., Michael, and daughter Norma have joined in the tradition of custom building and designing furniture. Whether working with ASID members or individuals, Garcia Furniture Designs Inc. provides excellence and an eye for detail on every project. We stand ready to assist you in creating the concept in furniture that you will enjoy and be proud to display.